Kickstarter – Leonardo Da Vinci's Drawing Tools for Photoshop and Procreate
15. March 2021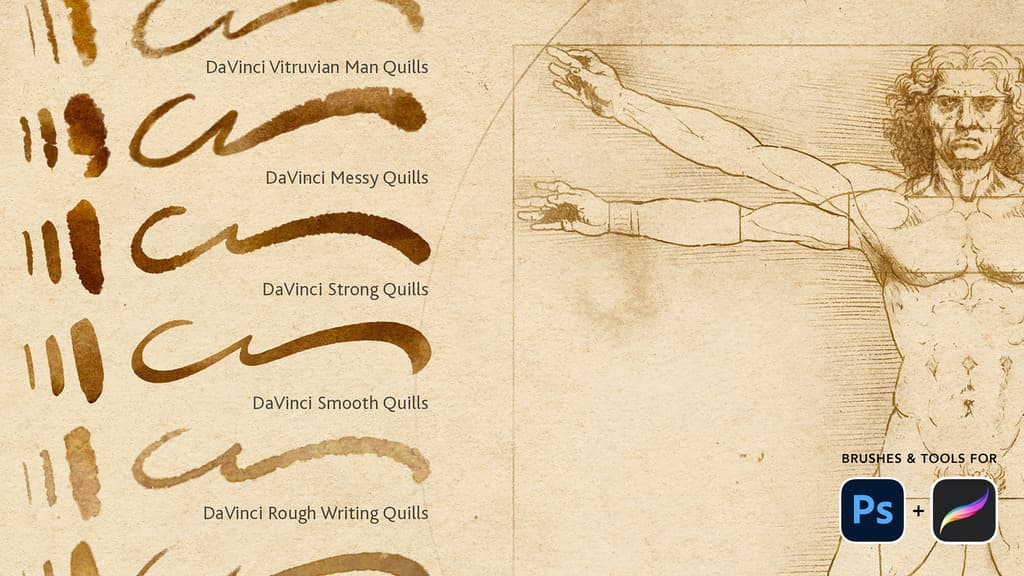 Brushes are a very useful and important tool for digital artists. Rowan Dodds knows this and has started a project on Kickstarter that could interest many artists. Find out more about the project on Kickstarter.
Apps like Procreate for iOS are finding more and more users over the years who want to paint on their tablet. Android, unfortunately, has very little to no offerings for digital artists in the professional space, which is a shame. People have been waiting for more great apps for Android for years, but Procreate, for example, has only been developed exclusively for Apple devices. The development of brushes for artists is therefore particularly focused on Photoshop and Procreate.
As Procreate and painting software become more comprehensive, better and more complex brushes come to light. We also read a lot about the benefits of AI being used in programs that calculate brush strokes, allowing for even more complex capabilities.
You can see where this development is leading in the Kickstarter presented here. Highly complex professional brush sets are the result of this development.
What are the special features?
Photoshop CC and Procreate Support
Photoshop CC inbuilt settings for every brush
Authentic colour swatches, specialty erasers and smudge tools
Over 30 high-resolution genuine antique paper
over 200+ Brushes
High resolution Brushes
Personal and commercial use options (depends on what you pay)
More Blog Posts